We are very excited to announce that, once again, we will have La Casita de Inglés for our Summer Camp 2023 in Discovery House, for children from 3 to 10 years old.
Why do we love having La Casita de Inglés organize our camps? Because we identify with their Play Based Learning philosophy, in which children learn English by engaging in fun, creative, stimulating games. In addition, they maintain very small groups with only 10 children per teacher, guaranteeing maximum quality and fun in each activity.
Every year our students keep asking to come back to our camps because they know that each week they will lead to a new adventure. In fact, this summer we will explore life under the sea, arts & crafts, science, superheroes and sports as our weekly themes.
In the purest Casita style: lots of movement, crafts, games, body language, yoga, theater, dance, and a great sense of humor that will make our summer undoubtedly unforgettable. And of course all activities are 100% in English with native teachers.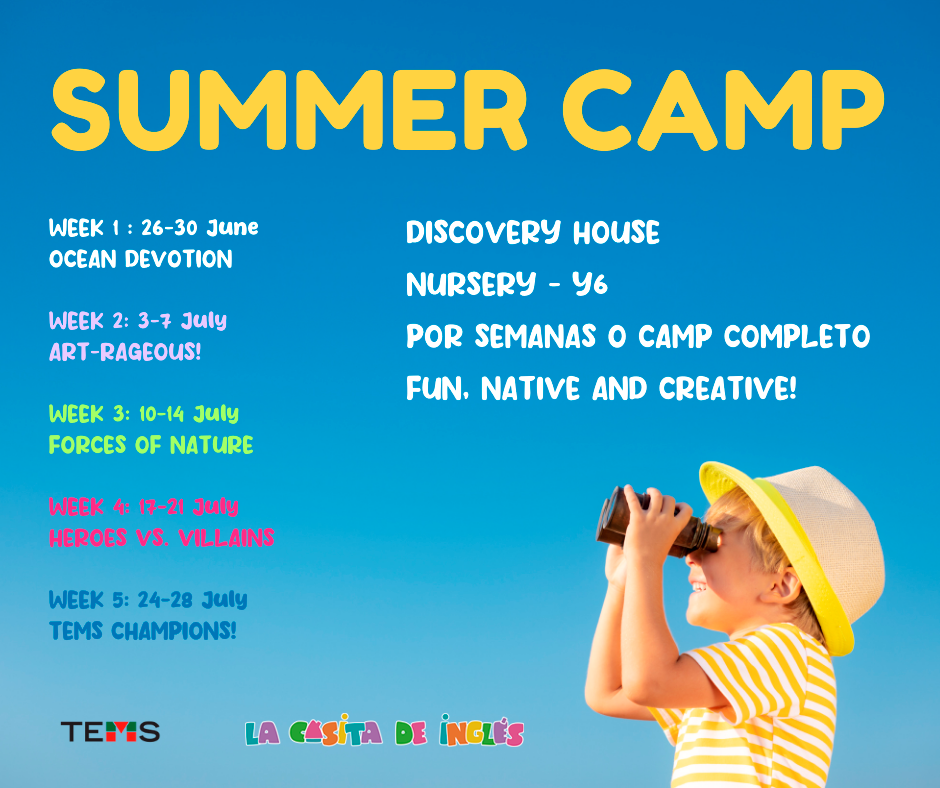 5 weeks of summer fun await us from June 26th to July 28th.
You can book single weeks or the whole camp.
You can choose between these two schedules:
From

9:00 a.m. to 13:00 h

. with a mid-morning fruit snack

From

9:00 a.m. to 16:00 h

. with a mid-morning fruit snack and lunch at 13:00 h.
Prices, discounts and registration
The price per student varies according to the number of hours:
From 9 am to 13:00 h (per student)
1 week: 192€
2 weeks: 350€
3 weeks: 450€
4 weeks: 545€
5 weeks: 650€
From 9 a.m. to 16:00 h (per student)
1 week: 295€
2 weeks: 465€
3 weeks: 630€
4 weeks: 760€
5 weeks: 950€
Discounts and registration
Discounts (these discounts are cumulative).
Siblings will receive a 5% discount (from the 2nd child on).
Registration until the end of may May will have an additional 5% discount over the total amount.
After 12th June you will lose 50% of the total.
After 19th June you will 100% of the total paid.
You can register your child/ren in the following form (one per child). 
Registration will not be completed until full payment has been made by bank transfer. Payments should be made to the following bank account of the school including the concept "TEMS Summer Camp + student full name".
IBAN (Santander): ES09 0075 1149 9806 0023 5014
For queries please contact summercamp@tems.es