27th June – 29th July
From 3 to 10 years – Open to TEMS students and pupils from other schools
The Summer School of The English Montessori School offers an exciting opportunity for 3-10 year-old children to continue their learning experience and practice new skills in a safe environment.
Each week we will explore a different theme adapted to each age group, with activities that stimulate children creativity for them to learn while having fun. These activities will include indoor and outdoor games, crafts, drama, yoga, music and dance. English only, with a native teacher for each group (10 children per group maximum) and two coordinators helping all the time and in a safe environment.
From 9:00 to 13:00 or 9:00 to 16:00

We will work on the following weekly topics engaging the children through positive reinforcement and motivation, to create a natural stimulus towards language learning and development: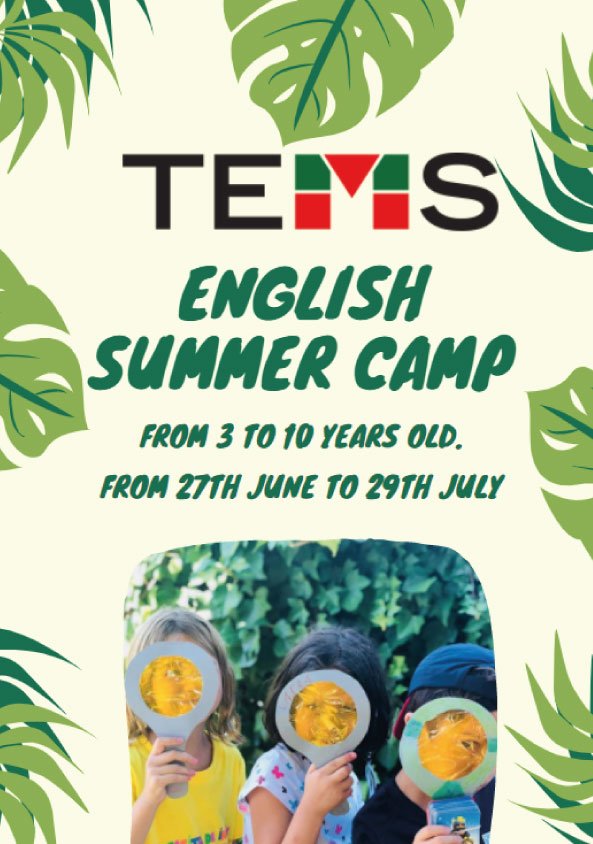 Week 1: 27th June - 1st July: Crime Fighters​
Discovery House will become a Detective Centre. Our young secret agents will have to test their skills … or rather, superpowers! They will learn to decode secret messages, solve challenges, match footprints and test their visual speed playing I spy. A real adventure with Escape room style clues.
Week 2: 4th - 8th July: "Science Matters"
Science experiments are usually successful among children. They will play and learn about states of matter, magnetic fields, the uniqueness of digital prints or the density of objects. Welcome to our lab!
Week 3: 11th – 15th July: "Action - Reaction"
Movement is essential! This week there will be no rest: running around, dancing and sports. We do not need to be still to learn a language and we know it. Fun is important to learn, that´s our philosophy.
Week 4: 18th - 22 July: "Rumble in the Jungle"
This week our young astronauts will take off aboard a spaceship for an adventure that transcends space and time. A surreal week in which we will not only learn about our Solar System but explore new galaxies through the world of science fiction. Planets, moons, stars, asteroids and even aliens. This week fun will take us… to infinity and beyond!
Week 5: 25th – 29th July: "Art-astic Week"
Art is our passion. We have a soft spot for drawing, painting, sculpture and performing arts. We love creativity and will dedicate a week to learn about our favourite artists while we practice their techniques. A real creative storm!
The activities aimed towards our younger students will be full of music and movement, using rhythm and body language to introduce each week´s vocabulary, as well as simple crafts to boost their creativity.
For our older students, we will challenge their imagination and all kinds of skills with games based on dialog, team work and critical thinking. We will also challenge their curiosity with STEAM activities, science experiments and crafts where they will be able to fully express themselves. 
| | | |
| --- | --- | --- |
|   | Till 1pm | Till 4pm |
| 1 Week | 185 | 285 |
| 2 Weeks | 330 | 450 |
| 3 Weeks | 430 | 610 |
| 4 Weeks | 530 | 750 |
| 5 Weeks | 650 | 950 |
Places will be allocated on a first come first served basis
Information and registration
For queries please contact summercamp@tems.es
Payment method by bank transfer to:
THE ENGLISH MONTESSORI SCHOOL
ES09 0075 1149 98 0600235014
Please be aware that payment only does NOT guarantee a place in the camp, the Registration Form (below) must be filled in and sent.
Discounts (these discounts are cumulative).
Siblings will receive a 5% discount (from the 2nd child on).
Registration in May will have an additional 5% discount over the total amount.
Cancellation Policy
After 15th June you will lose 50% of the total.
After 20th June you will 100% of the total paid.