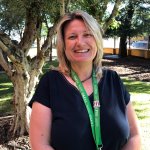 Head of Seniors
Leah Herring
TEMS is a school which is constantly striving to improve in all areas for the benefit of pupils, teachers and parents, and I feel privileged to take on the role of Head of Secondary and form part of that driving force. Our priority is to ensure that each day our pupils come to secondary school feeling ready to learn within a safe environment so that they can prepare in the best way possible for their Cambridge IGCSE examinations at the end of Y11. With the care and support of their teachers, it is a pleasure to see pupils progress from their awestruck beginnings in Y7 to the confident, independent young adults they have become by the end of Y11.

I joined TEMS in 2015 as an English Language and Literature teacher, having taught as an English teacher in several schools in Spain since 1996 when I graduated from St. Hilda's College, Oxford University. I was immediately impressed by secondary pupils' language abilities within the classroom and I had only to look at the school's IGCSE results to realize that I was working at a school which had high academic standards. Moreover, the importance given to pupils' emotional intelligence also stood out, and I realized that TEMS is a school which focuses on a variety of core values.

I very much look forward to working with pupils, staff and parents alike to continue leading the secondary school on to further successes.