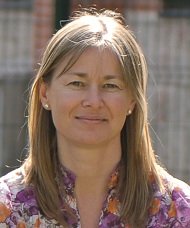 Head of Senior Department
Kathryn Slack
It has been exciting to become Head of Sixth form this year after playing an integral role in setting up our first ever cohort of A level pupils at TEMS.

From its embryonic stage at the beginning of the previous academic year to full fledged department in September it has been a pleasure to be a part of. We would have started off small, with very few pupils, as long as they were doing the same subjects, but I am delighted to now have 21 pupils in our first cohort. We have pupils doing mathematics, biology, physics, chemistry, business, French, English Literature, Spanish and extended project qualification A levels. Pupils also do PE, especificas and Cambridge proficiency in English. We also have one pupil doing computer science online with one of our sister schools. We hope to add this to our choices next year if there is sufficient demand.

Our pupils have so far attended many talks from the virtual British University Fair. We have also had talks from Tio Business School in the Netherlands and Cardiff University to help give an insight in their options for their future. Some of our pupils are helping to run the secondary Student Leadership Teams and we hope to extend this to Juniors and Infants in the near future. They have signed up with 1º bachillerato pupils to volunteer with 'young and solidary'. I also hope they will be able to help younger children read and do other activities when we are freer to move out of our COVID induced bubbles.

I have a great team of excellent and caring teachers who are committed to encouraging our pupils to do their very best. They are working very hard and enjoy guiding the learning or our pupils. I am so pleased to see the progress of our pupils so far. Their confident, caring and independent attitudes are excellent for the way of working in A levels and they contribute so much to their learning and that of others. They are a joy to teach.