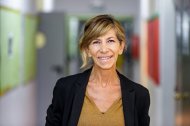 Directora de bachillerato
Beatriz Mera
I have a degree in Economics and Business Administration from the Complutense University of Madrid (CUNEF), and I have been teaching since I joined the Faculty of Law and the Faculty of Economics at the Complutense University and the San Pablo CEU University in Madrid as an associate lecturer in Economics.
It has been more than 20 years since I joined the TEMS School as a part-time lecturer in Economics. The dedication that I initially shared with university teaching, finally turned to the school, seduced by the encounter with the Montessori method, the management team, fellow teachers, and a happy and enthusiastic school environment for learning, an environment not easy to find in other educational environments. It has been twenty years of fully satisfactory professional and personal development in what I feel as my home.
From January 2020 I will take on a new challenge as Head of Bachillerato, extending my commitment to the school from a different perspective, although without abandoning my teaching vocation, which I am so enthusiastic about. I will always be indebted to what I have been able to learn and experience at TEMS, thanks to the many teachers who have accompanied me over the years. The fruit of this tenacious and committed work is the atmosphere among the students, of commitment to society (for example, in the voluntary work that has been carried out for the last two years in the Bachillerato), curiosity for learning and a family atmosphere in school life, which is finally reflected in the academic success of our students, and in a shared experience of school life that they will never forget. Respect, independence, freedom, curiosity, affection and joy are values that will accompany them throughout their lives.