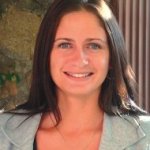 Head of Infants
Abigail Kay
After teaching for five years in my home town of Leeds in Yorkshire, England, I came to Madrid to seek new challenges and experiences. I joined The English Montessori School and taught my first year here in Year 1. I enjoyed every minute of it, working with enthusiastic and motivated staff and with children who eagerly took on the challenges of learning in English. I am now very excited to take on the role as Head of Infants this year.

Working with Infants is not for everyone. It's messy! It's noisy! But it's where the magic happens! I am proud to say we have a team of staff who all clearly share the passion for Early Years learning and want to play a part in the important formative years of your children's education.

Everyone is special in the Infants; talents are discovered and nurtured and an enthusiasm for learning is encouraged through an exciting, relevant curriculum. Learning is about trying your best and having a go; making mistakes and learning from them. Children are taught that it's right and safe to question; to think for themselves and do the right thing. We place children's emotional security, health and personal / social development at the core of everything we do and we know that this work is impacting positively on our children's lives, securing their sense of safety and happiness at school, building their self- confidence and enabling them to achieve more positively in the classroom.

Our school has always had a commitment to providing quality education and we are dedicated to ensuring that this continues. It is a real pleasure for me to teach the children here and play such an important part in their young lives.