Whilst we prepare to open  our new site, we have been working tirelessly to enhance our approach to teaching and learning. In this post, we want to introduce you to one of the most remarkable aspects of our new building – our state-of-the-art laboratories! 
A collaborative design process
Our Science department has been deeply involved in the design of our new laboratories. By leveraging their expertise and insights, we have created spaces that cater to the unique needs of our students. Through  collaborative effort, we have refined the orientation and layout to maximize efficiency and optimize the utilization of the available space. 
Creating cutting-edge facilities requires collaboration with experts. Our team has worked closely with professionals in furniture design, plumbing, and architecture to ensure the laboratories meet the highest standards. Through several meetings and discussions, we have fine-tuned every detail to provide an exceptional learning environment. 
Fostering discovery, exploration and experimentation in an ideal environment for learning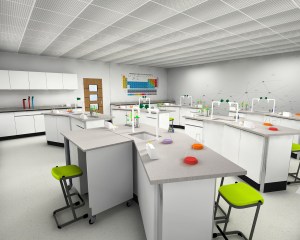 Collaborative learning is at the heart of our approach at TEMS. In one of our laboratories, we have incorporated octagonal-shaped tables that offer flexibility for different learning approaches. Students can work standing or sitting, facilitating dynamic group activities and the movement so central to an approach based in the Montessori pedagogy and discussions. Some tables are portable, allowing for easy movement and reconfiguration, promoting an interactive and engaging learning experience. 
The other two laboratories h ave been designed with a layout that ensures visibility of the whiteboard from any point in the room. This arrangement encourages collaboration among peers and facilitates seamless communication, fostering a sense of community. Additionally, the storage space under the tables provides an efficient use of space, helping maintain a clean and organized workspace. 
Safety, efficiency, and innovation
Our commitment to the wellbeing of our students is paramount. To ensure a safe learning environment, we have implemented advanced safety measures. Each laboratory is equipped with fixed gas connections and power outlets at every table, allowing for smooth experimentation. Furthermore, the inclusion of portable fume cupboards provides secure spaces for chemical demonstrations, ensuring the utmost safety. 
Our new laboratories have been designed with efficiency in mind. We provide ample storage space to keep equipment organized, enabling students to take ownership and responsibility for the materials. By fostering independence and organization, we empower our students to fully engage in the learning process. 
Abundant natural light floods our laboratories, creating an inviting and inspiring atmosphere. The spacious layout and increased visibility from the hallway contribute to a vibrant learning environment. Students will feel energized and motivated to explore the wonders of science within these modern and well-equipped spaces.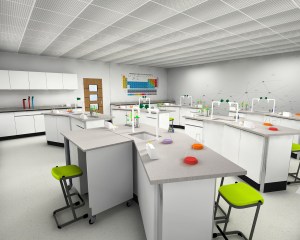 In our commitment to providing an exceptional learning experience, we have incorporated interactive screens and traditional whiteboards into the laboratories. This integration of technology and traditional teaching tools ensures that our students have access to diverse resources, fostering their engagement and understanding during lessons. 
Empowering future scientists
We are sure that these facilities will have a profound positive impact on our students' educational journey, fueling their curiosity and nurturing their passion for scientific exploration. Beyond TEMS, our commitment to our students' success extends to their future careers in the field of science. We take great pride in preparing our students for their journey after A Levels or Bachillerato, equipping them with the knowledge, skills, and practical experience necessary for their chosen paths. With our innovative laboratories and the guidance of our experienced teachers, our students are well-prepared to excel in higher education and pursue careers in various scientific disciplines.
Our track record speaks for itself, with TEMS alumni going on to study at prestigious universities around the world and achieving remarkable success in their respective scientific fields. The hands-on learning and experimentation opportunities offered in our laboratories will be a solid foundation for their academic and professional pursuits. Whether our students choose to specialize in chemistry, biology, physics, or any other scientific discipline, they will have a solid educational background to build upon.