Wellbeing is at the heart of the Cognita family's education and is an integral part of the purpose of all the schools that are part of the education group around the world. That is why wellbeing must be part of the foundation of our new school. When students feel that their school is a safe, healthy and nurturing environment, they are more likely to feel a sense of belonging and pride in their school, creating a positive effect on their well-being. Our new school is being planned from the outset as an environment with facilities, resources and learning spaces that help to optimise wellbeing and productivity.   
Moreover, creating concrete spaces for this purpose gives us the opportunity to demonstrate and communicate, beyond words, our concern and the value we place on wellbeing. This is nothing more than leading by example and showing our students and staff that their wellbeing is important to the community, that it is something that should be visible and practiced frequently so that it becomes part of our daily lives.  
Spaces that promote wellbeing
If we look at the Cognita Schools Family Wellbeing Charter and the factors that contribute to it, we get a sense of the importance of learning spaces. Firstly, in terms of physical factors, places that invite physical activity come into play (this does not mean a gymnasium, but rather a place to simply walk or stretch. For this reason, we have provided a 400-metre long path around the entire plot, so that our students can walk and run.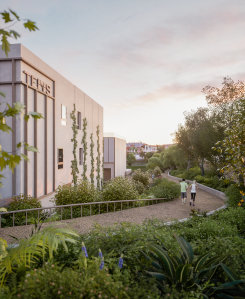 On the other hand, we must also talk about places that, although they are not for sleeping, also seek to provide deep rest, as it is something that favours relaxation and a state of peace, which, in turn, allows for a better connection with ourselves. Professor Andrew Huberman, an American neuroscientist, explains it well: "NSDR (non-sleep deep rest) takes advantage of the fact that we can control our perception. That is, what sensations we focus on. And in doing so we can change our brain state from one of thinking, of stress, of planning, of anticipation of any kind – positive or negative – to one of pure sensation and deep relaxation". The interior of our building will have furnishings and areas that allow for such relaxation. Many window sills are conceived as benches for resting, taking advantage of the space that will also be enriched with natural light. But we must not forget our 400 m2 terrace on the upper floor with spaces to rest and strengthen friendships.  
This point leads us to look at how school environments favour the development and maintenance of relationships, the number one predictor of happiness according to a 50-year study by Harvard University. Having spaces to properly connect with yourself and others, such as our terrace or outdoor seating area, will benefit our students' wellbeing and, consequently, their ability to thrive.    
Nature and well-being go hand in hand
As British scientist Sir David Attenborough once said: "natural outdoor environments can offer a very special kind of learning experience: the opportunity to discover and learn by touching and feeling, the chance to explore and take risks, the stimulation of fresh air and limitless skies".   
However, we know that today the distance young people are allowed to travel has changed; this generation of children has much less freedom to go outside, explore and play in the fresh air. Add to this the increased time students spend on digital devices (for a variety of reasons) and it is clear that it is crucial that we, as parents and educators, help our children navigate an ever-changing world that is fundamentally affecting the way we communicate, work and live. So one of the simplest truths makes sense here: the human body is designed to move and spend time outdoors, and it is up to us to provide and promote opportunities for our children to do both. As a school we have made that commitment in designing a new building where outdoor spaces and nature are crucial.   
The connection with nature will not only be present outside with our vertical garden and lush trees, but the interior will be designed so that – visually – we have a sense of being surrounded by nature: a strong presence of wood and natural light, decor and furniture in a way, designs with elements of nature… all with the aim of giving a sense of calm and tranquillity to take care of our mental health and stress levels.   
It is positive to see the direction the school is taking, together with Cognita. Our new building is a great example of this. The sustainability factor of the building, along with the natural elements that run throughout the spaces, are two areas that the world is trying to promote for a number of obvious reasons. The fact that our new school is being built based on these ideas goes beyond just talking about it, but sends out a statement of intent and sets a standard for the future. Without a doubt, the construction of this building based on these ideas and principles is ambitious, progressive and demonstrates how we feel about our students. 
Written by Beth Kerr (Cognita Wellbeing Director) and Rich Health (TEMS wellbeing coordinator)