In TEMS, our 3 core values "CARING" "CONFIDENT" "INDEPENDENT" guide the decisions we make and the paths we take, not only in the educational field, but also in the emotional and personal when making certain decisions. This term we have been focusing on Caring especially. Caring for the planet yes by voting as a school to support  Global Goal 13  which speaks for action on climate change, caring for others certainly by raising funds through a Reuse market and collecting food donations for a range of charities but beginning to care more widely for projects around the world in Kenya, in Cambodia and in Mozambique. 
Sometimes, if we look back and reflect, we realize that life is a series of coincidences or chance encounters, which, in most cases, changes the future of all those involved. 
Our students inY12, besides being involved with the whole Turkana NGO project, have had the opportunity this term, just like the rest of the pupils at TEMS of getting to know knowing Jimmy.  
In this case, nobody had any doubts, we couldn't be luckier than having the chance to welcome Jimmy and get to know first-hand about the Turkana project and what life is like so many kilometres away from our beloved school in northern Kenya. 
Jimmy has been in school for more than two weeks. He comes from Kenya and came to Spain to be operated on by one of the mothers of our students. When she asked us if Jimmy could come to TEMS with her other children instead of being at home, we didn't hesitate. What a great chance forour students to get to know him.
Coincidence or not, our Y6 students at the time of Jimmy's arrival, were studying Africa and took the chance to meet Jimmy in the Senior library and ask him sorts of questions. They were excited about their new partner.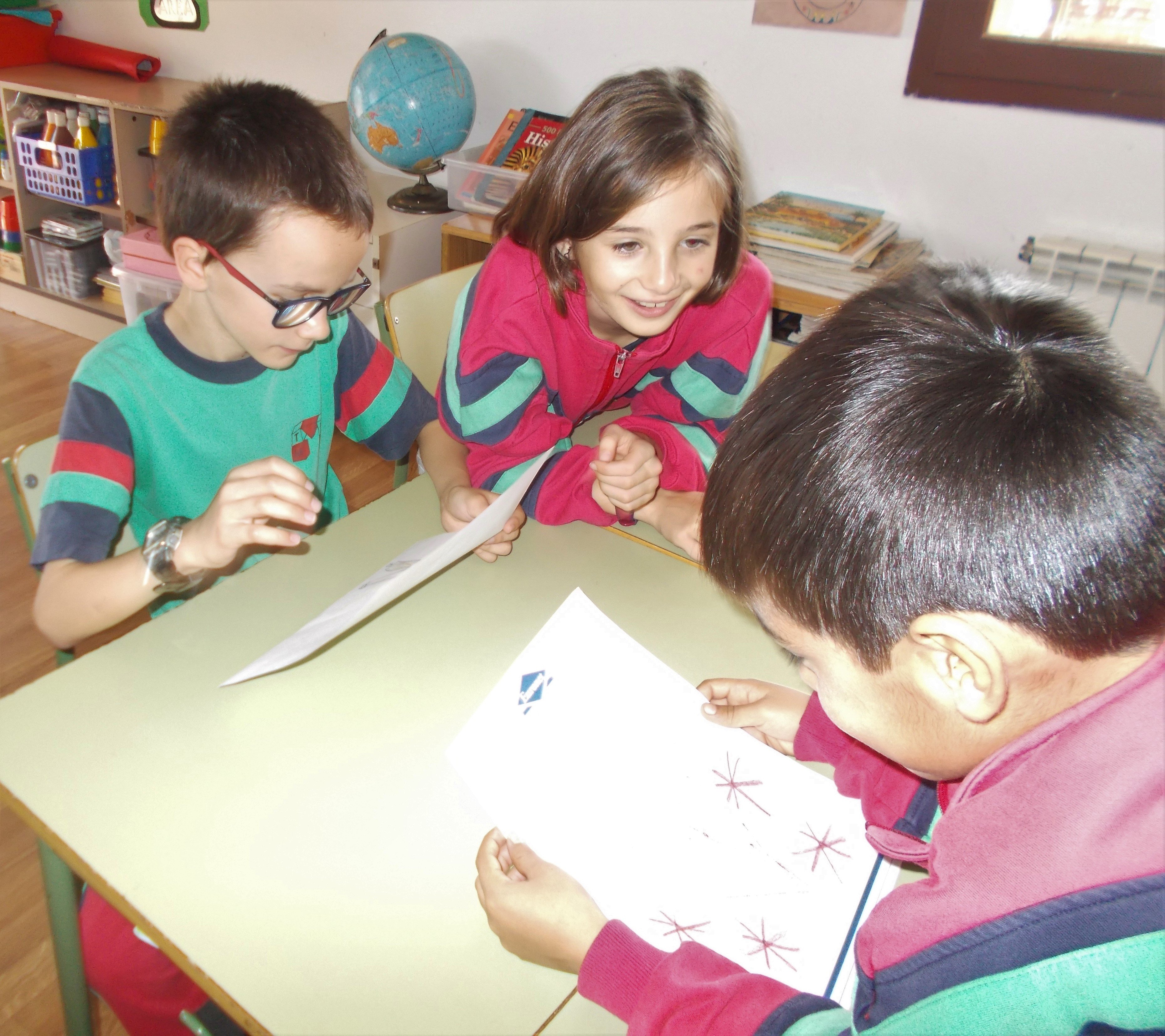 For TEMS, working with disadvantaged organizations or parts of the world is more than an action. The involvement of our students in being able to see where the proceeds go, as well as, in a very personal way, exchanging letters and experiences, as in  the case of our Y5 students who are in touch with a school in Mozambique supported by another NGO, is more than an experience, it is the  making all of them aware that we are an extremely fortunate community  and that we have to take care of those who are not so fortunate because a short letter, a drawing, or the simple fact of being interested in their lives can make them happier than we imagine. We are very happy to be able to continue with these initiatives that not only contribute to the Turkana project or to others in which we collaborate, but to the positive and close feeling that our students experience through participating and getting involved in them, is a feeling that they will never forget. 
Jimmy's trip, for his Spanish family has been more than a mere coincidence, which is why, when we asked the mother of our students about him, she sent us a letter that we want to share with all of you, because it shows that we need more Jimmys in our lives. 
 Thank you very much, Jimmy, we look forward to seeing you again soon. 
The Journey 
I'm more nervous and fearful than the first time I went to Turkana. 
Here I sit, waiting to board the plane that will take me to Cairo and from there to Nairobi. 
And this trip started a long time ago…. 
It started 51 years ago, when I came to this world and grew up immersed in our bubble full of possibilities and comforts. 
And when sometime later I decided that I wanted to dedicate my life to exploring the world of others. Above all, those who do not live like us, the world of those who survive, of those who do not have the slightest resources that a human being has to develop a normal life. And I'm not talking about big goals, I'm talking about the basics: food, water, health, the right to decide, education, things that those who live like me don't stop to think about and that we stopped valuing a long time ago. 
That's why the day the Turkana crossed my path, I knew that the time had come, that my journey had begun so that it would never end. 
Since that day there has been everything in my way, but most have been good things, people who have joined this adventure, my husband Joaquin, my children, my family, my friends, my students, the Turkana, … a lot of travellers in this peculiar journey through life. 
And I think we've all been learning from each other. 
And that's why we continue to travel together after so many years. Because life is worthwhile when the journey makes sense. And this is a trip with all the sense, because in each suitcase we put a lot of things: love, tolerance, gratitude, forgiveness, understanding, generosity, solidarity, health, life, death. 
And from time to time, small miracles. 
I say that a miracle happens when the stars of the sky come together, or when karma agrees to help us, or when a cow flies, but especially when a human being decides that he is going to change his life. But I don't think this is a miracle… 
When five years ago he appeared in front of me in the office I thought, poor child, there is nothing we can do to cure him. I could barely pay attention to him because she was saturated with work, so I told Steven: "Tell his mother that we can't take care of him here. 
It's something that happens every day during campaigns, we see a lot of people we can't offer a solution to. 
The following year a small boy, a little boy, dressed in a straitjacket so filthy that it was hardly noticeable that he must have been white in his day, shaven shorts and barefoot, stood looking at me with determination at the consultation table. The karma must have blown in my ear because this time I asked Steven: where is the mother of this child? 
They told me that the boy was alone, that he lived on the street. The fact that he had a huge tumour in his jaw did not seem important to me at the time. 
I don't know if it was because I was very tired, or because it reminded me of my little Joaquín but the fact is that I got nervous. And I was angry. Very angry. 
We started to find out and Steven and Joaquin went to Lodwar to see where the child was coming from. Indeed, he was alone, sleeping in a kind of ramshackle garage where they only found a starving and drunk woman and a baby lying on the sleeping floor. 
That was the "home" of the child who looked at me with sad, imploring eyes. 
The first thing was to get him out of the hell he lived in. Steven took him with the missionaries to Nariokotome. From that day on, he would eat daily, sleep in a bed, and go to school with other children. 
That was a first step. Our little hero had achieved a lot. He was beginning to have a dignified life. 
No family, no mother, no father who kissed him but at least he wouldn't have to wander the streets trying to make a living with the few coins given to those he carried with him. 
But the little one didn't just want that. He had gone to find us to solve his problem. He didn't want to have that horrible lump on his face because the other children made fun of him. 
But that was still a long way off… 
A few days after the end of the campaign, at home and comfortably installed we were reviewing photos of the campaigns. And we saw it. 
It was a picture of our boy, Jimmy. But it wasn't from the last campaign. It was from the previous year. 
We noticed it. 
That stubborn little boy, without resources, alone in the world, living in one of the most terrible places on the planet, had come back to look for us. The first time was of no use to him. 
We had ignored him, but that did not discourage him – like the great men – and that's why he came back the following year. Because he wanted us to look at him and help him, and I'm sure he would have come back every year until he got it. 
That's why this is no miracle. It is the consequence of the effort, patience and tenacity of a small human being who wanted to live. And he was asking us for help. 
That day our commitment to him was sealed forever. We knew we owed him. That we had to operate on him and from there give him all the opportunities that life had denied him since he was born. 
All the campaigns have received his visit. Steven knows what this child means to us, that's why he would bring him to the hospital every year and there, in the office, sitting next to me, we would visit together. 
But we were still indebted to him. His tumour was still growing and we didn't have a solution yet. 
We valued operating on him in Nairobi but given the experience of previous cases in which sending a child had gone very badly, we were afraid. We wanted Jimmy to die. 
Operating in Spain was a possibility, but we had no papers and without papers there is no passport or visa. 
This last campaign finally produced another miracle. More than that, however, was the help of the missionaries Antonio and Avelino, Scholastica and Steven, who were determined to look for a relative of the child. They removed heaven and earth and …. It appeared! 
A small, bad-looking guy turned out to be Jimmy's father. And from there everything was filmed: the "father" gave us the identity of the mother and we were able to request the birth certificate of the child and the death certificate of his mother. The other day at home, arranging the papers to come and pick him up, I had a very strange sensation: in my left hand I was holding Jimmy's birth certificate, he was born on March 22, 2004. And in the other he had the death of his mother: Margaret, who died at the age of 33 from tuberculosis and AIDS. 
I just hope that she, wherever she is, knows that she can be very proud of her son. He's going to have everything she couldn't. And sometimes life gives you things in its own way… 
Before returning to Spain we said goodbye to Jimmy in Nariokotome. He already knew that the door had finally opened. And his eyes were no longer sad, they shone with hope and were filled with tears. I had never seen him cry until then. Now that he knew that the end was near I was afraid. And hugging Natalia and me he made us promise to come back soon to look for him. 
We are only afraid when we know we can lose what we want. 
That's why the Turkana are not afraid. They have nothing to lose. Their life is worth nothing. 
And that's why now that I could feel that fear in Jimmy's eyes, it made me soft… it started to look like us. 
From then on, all the paperwork was easy, thanks to the Ambassador and Consul of Spain in Kenya and of course to the Hospital Clínico who provided us with both the child's papers and the permission to operate on him in Spain. 
And today the big day has finally arrived. My dear family, Joaquin, Alejandra and Joaquin Jr have fired me at the airport. They saw how nervous and very excited I was. On the way back we are going to live a new experience for everyone. 
And while I'm waiting to board, I'm also thinking about those who didn't make it. In Wilkister, in Ekiru, in Mary, in Mabel, in Derick, in that baby who slept in the garage, there are many who are left behind. 
I know because their memories are still alive in our hearts and reflected in the wrinkles on our faces. 
But it doesn't matter. If you just get there, it will be worth it. Because it means that many others will be able to make it. 
Today is October 12th and Spain celebrates a very special day, it is also the day that Columbus arrived in America thanks to being very stubborn, and our little Jimmy will come to Europe for the same. For having the virtue of the great men that history speaks of the tenacity and the firm will to move forward and overcome and overcome the reality in which many live immersed. Everything can be changed if we want to. This is our child's great lesson. Congratulations, champion. And thank you. 
Many new and exciting things await you now: seeing how a light comes on when you press a button, seeing how the water gushes from a tap and is clean and rich, seeing the sea, living in a house being part of a family, opening the fridge and being able to eat a delicious sandwich, playing football with new friends. 
I know that tomorrow you will go very far, and that you will tell your grandchildren that in a country called Spain there were many people helping you to have a better life. 
You also have to help others, never forget it, and make this trip the first of many. 
I know that your mother looks proudly at you from the immense Turkana sky, and I, the mother that karma put in your way, will always be concerned that you grow up as a good and authentic Turkana knight. 
Road to Cairo, somewhere in the clouds 
October 12, 2017